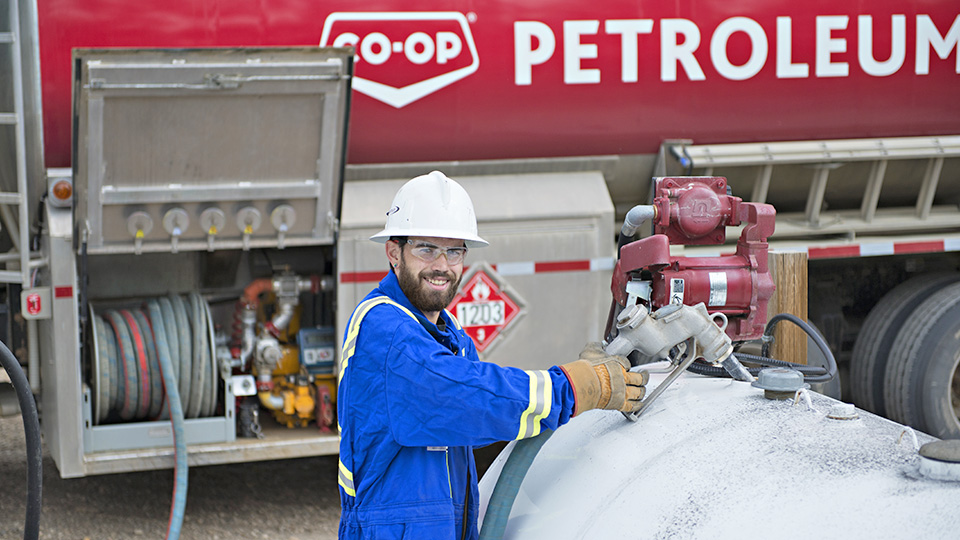 Co-op Cardlock & Bulk Fuel
September 19, 2019
Your local Co-op offers fuel options for large-scale needs. Whether it's Cardlock facilities for card holders, bulk petroleum facilities or bulk propane offerings, we have you covered.
Please see our Hours, Contacts and Location Info page for location details.
---
Cardlock
Your local Co-op is part of a network of over 280 conveniently located Cardlock fuel stops. Those who have a Cardlock Card can use these facilities whenever they need fuel - 24 hours a day, 7 days a week!
Airport Road Bulk Petroleum
Your local Co-op offers bulk delivery of fuel. We take pride in the product we deliver and in our excellent customer service.
Propane
Whether you're at home, on the farm or at the cottage, or involved in any type of agricultural, commercial or industrial enterprise, we have the people, trucks and equipment to look after your propane needs.
Come on down to our 91st Ave location; we have rental tanks in 100 lb and 420 lb (Pig) sizes at competitive pricing.
Fuels & Lubricants
Fort St John Co-op sells a variety of Fuels and Lubricants to meet the demanding requirements of almost all heavy duty equipment in the Oil Patch Industry.
Some of the products we have on the pumps include:
Diesel
Dyed Diesel
Regular
Dyed Regular
Dyed Premium
Auto Propane
Our 91st Avenue Cardlock also has a Lubricant Warehouse containing some of the following:
For Diesel Engines
DMO 15w40
DMO 0w40 SL
DMO 10w-50w
DMO 5w30 SB
Trying to figure out what product is right for you and cant keep up with all the acronyms?
DMO - Diesel Motor Oil
SB - Sythetic Blend (The product is partially synthetic and partially non synthetic)
SL - 100% Synthetic Lubricant (Our products that are SL are guaranteed to be a 100% Synthetic Lubricant
Gold Oil - A Synthetic or Partially Synthetic Blended Oil made specifically for your gas engine, containing increased lubricity and additives that are recommended in a variety of vehicles to maximize performance standards.
Silver Oil - A leading class Premium Oil product in a non synthetic form made specifically for your gas engine, contains additives needed to meet performance requirements from the manufacturer
API - American Petroleum Institute- This means that our oils have been tested by the American Petroleum Institute and has been proven to meet warranty requirements for vehicle specifications, when purchasing oil products, in order to know you are getting a quality product, seeing this label is a sign that it has been inspected by a respectable outside source for quality assurance and high performance standards that meet vehicle requirements.
Charts, Guides, Forms & More
Information about Co-op Fuel and Lubricant Products can be found at https://www.fuel.crs/commercial/detail/coop-fuel-and-lubricant-products.
Information about the Cardlock Location Guide and applications for Cardlock accounts can be found at https://www.fuel.crs/tags?keyword=cardlock.
Applications forms for Commercial Credit and Consumer Credit for Cardlock and Bulk Fuel can be found attached below. Please fill out and return to either Fort St John location, or you can mail to:
Fort St John Co-op
7315 - 100 Ave, Fort St John BC, V1J 5T8
E-mail: officemgr@fsjcoop.com
Fax: 250-785-6171
Discover more: